Indian B2B E-Commerce marketplaces are going through difficult times. Started with lots of fanfare and positive expert predictions – they got everything right during initial days. A huge market, virtually no competition, excellent fund flow, ready offline market waiting to be disrupted – but somehow the smooth sailing has run into choppy waters. The largest Indian B2B e-commerce marketplace having ample VC money has closed down, leaving over 500 professionals jobless. Many smaller ones are either closed or in the process of shutting down. What's happening ?
Let's share our experience. BazarA2Z is one of the first to get into B2B E-commerce bandwagon. Being in online B2B market for long – it was comparatively easy for us to develop B2B e-commerce marketplace with unique offline-like features like automatic volume based discounting, pre-sale negotiation, lot-based trading, detail spec comparison among vendors, online credit etc. We accepted only manufacturers as merchants to ensure maximum arbitrage for business buyers (distribution cost in India being upwards of 40% – dealing straight with manufacturers gave us the price advantage). We got good response from market – transactions were growing, so also number of buyers and sellers. But there was one problem – the business remained loss making.
Unit Economics is Not Everything
Unit economics is a good indicator – but only partial. In long run, a business has to take into consideration various related costs. The earnings we were making from e-commerce transactions was not enough to meet even staff salary. Growing sales meant more investment in customer service, logistics, marketing etc. – but the return was not enough to justify such investment. Incurring loss is not really an option for us – being bootstrapped, continued loss means only one certainty – downing shutter.
The Reason
We sat down to analyze the reason – it was not very difficult to track down the culprit. We found, most of our customers are retailers whose average order value is quite low, consequently our margin too. However, the logistics cost is high as retailers need door-to-door supply. The road to profitability has to be through high order value, respectable marketplace margin and low delivery cost.
Why do we get only retailers as customers ? Because they are the ones easiest to reach. But they are also the lowest end of value chain !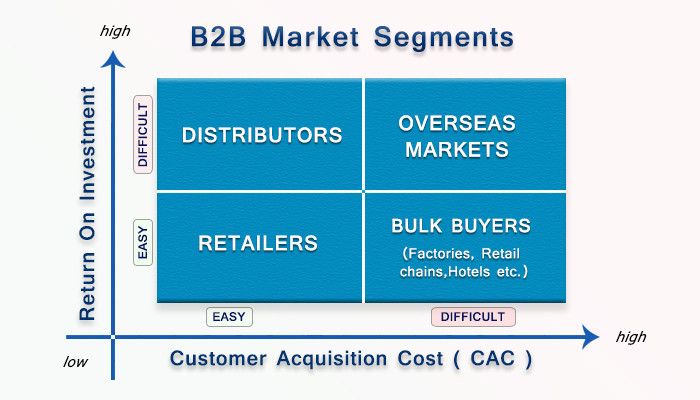 The Way Out !
To be sustainable – a B2B e-commerce marketplace needs customers whose average order value is high, able to offer respectable margin and is ready to accept low-cost, point-to-point delivery (e.g. by truck) instead of expensive door-to-door service demanded by retailers.
The market segment that answers such requirement is – Distribution Partners (distributors, dealers, super stockists, C&F Agents etc.)
A distributor represents 100-500 retailers – essentially a market aggregator and consequently orders much higher volume. They have their own transport vehicle and godown – so, no need of expensive door-to-door delivery service. Respectable marketplace margin can be secured by cutting down intermediaries between manufacturer and distributor and creating unique marketplace values such as credit, escrow, safe and convenient transaction, credit rating etc.
Why No One Is Addressing Distribution Market ?
Indian distribution market is highly fragmented, archaic, un-organized and consequently tough to crack. Even discovery is a challenge – there's not even a decent directory of distributors. We know, as we have been working in online B2B distribution space for years. Vanik.com is India's largest portal on distribution opportunities – serving scores of SMEs – helping them build distribution channels across India.
Indian B2B E-Commerce – Putting Cart Before The Horse ?
Indian B2B e-commerce marketplaces are chasing transaction part at lowest end of market, overlooking the underlying process driving the transaction. B2B transaction being result of distribution agreement, the transaction process must take this fact into account and endeavor to go up the value chain. Unlike consumer market, B2B market is rationally driven, with definite expectations at both buyer and seller ends. Understanding the expectations and designing e-commerce system to offer maximum value leads to lasting relationship and sustainable business ventures. Quick fix solutions like capturing retail transaction may provide impressive numbers but the business will remain unsustainable. Just one statistics, the B2B e-commerce market leader – that recently closed down – could sell merchandise worth only Rs. 4 crore in a year, but spent Rs. 76 crores in the process !
Entrepreneurs working in B2B e-commerce space must understand that distribution is core of B2B transaction. Any attempt to engage in B2B e-commerce without taking note of underlying distribution process is like putting cart before the horse ! 
E-commerce transactions resulting from distribution process not only go much beyond unit economics at lower delivery cost but are highly repetitive – returning high lifetime customer value. Such a foundation of high yielding customers engaged in repeat purchase ensures sustainability of the venture. Additional income from financial services, credit rating etc. are icing on the cake.
Conclusion
Entrepreneurs in B2B E-Commerce space has to re-invent their business as part of larger distribution trade. This may call for backward integration of existing systems with underlying distribution process. There's already talk of "omnichannel", "Franchise Model" etc. among B2B and even B2C marketplaces. The trend is likely to get strengthened in coming days.
We are now following a model of distribution-led B2B e-commerce. In this model, a distribution hub between manufacturer and distribution partner automates the distribution process – saving significant time and money for both manufacturers and distribution partners. The process is highly scalable and inexpensive – ensuring excellent return. Please check how customers are reacting at Success Stories pages.
Jumping straight to e-commerce transaction through mobile app or B2C-in-reality-but-pretending-to-be-B2B type e-commerce marketplaces – without taking into account underlying distribution process – may not lead to sustainable businesses. The place of horse is always in front of cart – not the other way round.